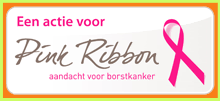 Ria, who started the Scrappassion Challenge Blog a few years ago has always dreamed about organizing a big scrapbooking event. Last September the Design Team and Ria decided to organize a Pink Ribbon Event combined with scrapbooking. Since we are all women and most of us know at least one woman who have been diagnosed with breast cancer, we decided to do whatever we can to create more awareness and money for this special cause.
So ... all the Dutch and Belgian girls ... please get your diaries out and mark SUNDAY 2nd of OCTOBER, 2011. This is the day that we are organizing a big PINK RIBBON Event ! There will be workshops, a gorgeous accomodation, great lunch, a goodie bag, a Make & Take, shopping opportunities at two different scrapbooking shops and a raffle with massive prizes! All profits will go to Pink Ribbon.
Ria created a special blog about this event. Please click HERE to read more. Unfortunately this blog is in Dutch only, since we only expect Dutch-speaking ladies there. But ... if you are from another country and you would like to participate too, please feel free to email ME for more information! You would be most welcome!
And please, if you know of anyone who might be interested in going, please send her THIS LINK to get more information. We'd love to have many, many ladies there!