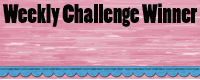 I have been busy scrapping for the Embellish It competition at
'Scrap N Craft with T'
. I won the first week's challenge and was glad to have made it through to round 2. In week 2 the challenge is to:
Create an embellishment to be used to decorate the outside of your gift wrapping, using the colours red, white and green and also using some wire.
It is preferable to have it attached to your gift wrapping, whether that be a gift box or gift bag, or alternatively it can be attached to your layout or card.
The embellishment will be judged only... not the wrapping/layout or card.
I couldn't believe my eyes, when I saw that I won for the second week in a row! There are such gorgeous entries every time, that I feel completely shocked that I one twice! Winning obviously meant I am through to round 3 too!
The challenge for week 3 is:


The first part of your challenge is to use the Melbourne Cup logo as your inspiration and create a layout using the colours of teal, hot pink, black and white. Bright and very funky!!NOTE: You can use tiny hints of other colours but the main focus is on this colour scheme.


The second part of the Challenge is to create an interesting background, and it must have 3 elements to it. For example, my background has painting, sewing and a weaved paper background. You can do whatever you like here, but it MUST have 3 parts to it!!


As you know, the Races are all about fashion, feathers and bling, so guess what the third part of the challenge is about??You MUST use: Fabric, Feathers and Bling on your layout somewhere.


As an BONUS part of this challenge and sticking with the theme for our "Embellish This" competition...You MUST create a handmade embellishment out of fabric.
When I saw this week's challenge I knew I had to make a layout for my daughter. Like me, she LOVES pink and bling! I had a set of feathered angel wings, which would suit perfectly! On the background I doodled a border in black pen, painted it in teal colour and embossed the word 'faith' in silver (hard to see on this picture).
I used a part of a Christmas decoration for the bling border. I used silk petals to create a ruffled border. I cut my daughter's face out of a photo to make the poppet. Inspired by my daughter's Barbie and Bratz dolls I used fabric and a part of an old elastic tule hairband to create my handmade embellishment: the dress. I hand cut the arms and legs out of paper and used Sizzix die cuts for the handbag and shoes. The quote says: 'May God grant you always a sheltering angels so nothing can harm you'.